You can't go a day without hearing about having a gratitude practice. Oprah's been talking about it for years, Deepak has done 21-day meditation challenges about it and as we approach Thanksgiving a whole lot of people are sharing what they are thankful for on social media.
Whether you celebrate Thanksgiving or not, a gratitude practice can be life changing. I myself have a regular practice and I encourage my clients to do the same.
We've all heard about gratitude journals. You're instructed to sit down and list all the things you are grateful for in your life.  I strongly dislike this practice. I don't feel fulfilled just listing what I'm grateful for. This time of year many families will go a little further then simply writing their gratitude list and they'll share it at the dinner table, with their friends and families.  There's one huge key piece missing from their practice. And it's asking yourself one simple question: 
"WHY?"
When I'm working one-on-one with a client one of the first things we do together is dig into their "why". Initially people come to see me because they want to lose weight. There's always another reason, something deeper than wanting to be skinnier. As Geneen Roth says; "It's about the weight, but its not about the weight". There is an underlying desire, or feeling they want. It's not just about being skinny. Skinny does not equal happy, and after having worked with clients who have tried to gain weight, I can tell you the grass is not greener on the other side.
Robert Emmons  the world's leading scientific expert on gratitude has a simple practice you can do to spice up your gratitude list.  And its simply asking yourself: Why? In the video below you'll see Marie Forleo try this powerful exercise, which celebrates the emotion behind being grateful.  I bet you'll be surprised when you see what happens.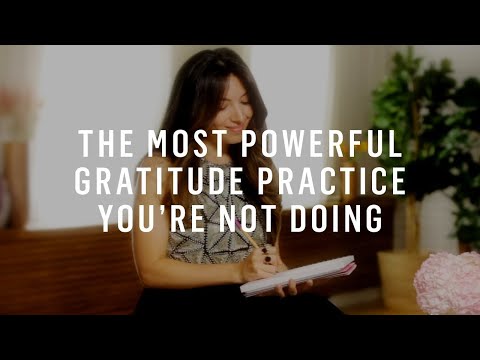 Why are you grateful for certain people or things in your life?  Share it with me here on my Facebook page.